Maryann
from
Domestically Speakin
g just featured my latest headboard bench on her
Power of Paint Party Spotlight
. If you don't visit her already, you need to add her to your list. She has great link parties, and is always up to something fun herself including crafts & recipes. Right now, she is talking about Christmas Card ideas and fun gift packaging for Thanksgiving!
Many thanks, Maryann!! I appreciate you & your support :)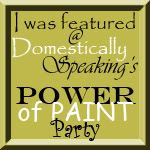 Also, hop on over to
Remodelaholic
and check out the
feature
that they did from A Few Good Pieces.
Cassity
highlighted my project "one huge piece", which was the two piece hutch/ bookcase/ cabinet that I did a while back (incidentally, it sold about an hour & a half after I listed it... like, out- the- door- sold, which always makes you feel like a million bucks!)
Many thanks to
Cassity at Remodelaholic
for the encouragement :) She is constantly featuring some of the greatest projects in blogland, so if you're not a regular over there, you should be. I feel honored!
Thanks to all of you, too! I love it when friends stop me in church, at school or in the grocery store to tell me that they really enjoyed a specific project. I also get so tickled by all my new blogland friends who support me every day! I am grateful to all of you!
Speaking of grateful... I think Monday is the day for the Give-Away. Don't you think it's time?
Remember, $100 in Visa Debit cards have been donated for the give-away. And all you have to do to enter is be a follower! For those of you who have had trouble with the follower feature, leave me a comment telling me 'I'd follow if I could!" and I'll enter you in the drawing as well.
Stay tuned for Monday, when I will finally get to share the great stereo cabinet all finished, and we'll have the give-away as well!
thanks, everyone!
kathie